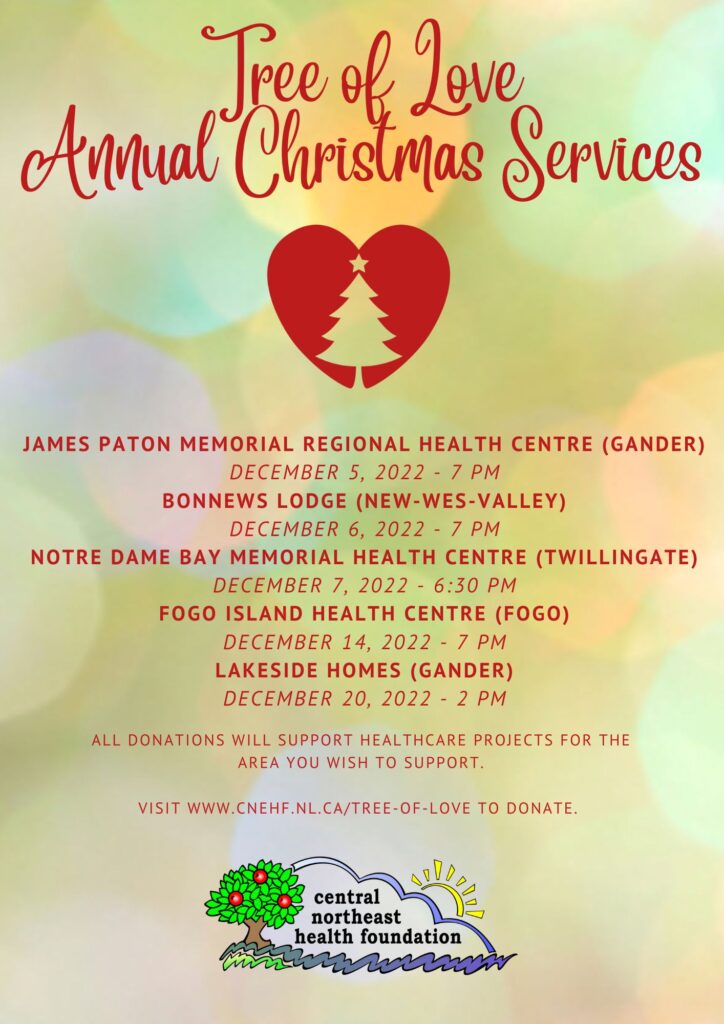 Christmas is a time for memories. During the month of December Tree of Love Services are held throughout the central northeast region at James Paton Memorial and Lakeside Homes in Gander; Dr. Y.K. Jeon Kittiwake Health Centre/ Bonnews Lodge in New-Wes-Valley; Notre Dame Bay Memorial Health Centre in Twillingate and Fogo Island Health Centre in Fogo Island.
Supporters can honor the memory of a loved one at Christmas by dedicating an ornament on our Tree of Love. All proceeds will support healthcare needs throughout central Newfoundland.

If you would like to donate contact our Foundation office at (709) 256-5742, visit www.cnehf.nl.ca/donate or email us.
This year our Tree of Love services were as follows:
James Paton Memorial Regional Health Centre
Monday, December 5th at 7 PM (PROCEDURAL SKILLS SIMULATION LABORATORY)
Dr. Y. K. Jeon Kittiwake Health Centre/Bonnews Lodge
Tuesday, December 6th at 7 PM (BAIR HUGGER WARMING SYSTEM)
Notre Dame Bay Health Centre
Wednesday, December 7th at 6:30 PM (UPDATED EQUIPMENT FOR EMERG NDBMHC) – CANCELLED DUE TO SICKNESS
Fogo Island Health Centre
Wednesday, December 14th at 7 PM (BRODA ELITE TILT CHAIR) – CANCELLED DUE TO WEATHER
Tuesday, December 20th at 2 PM (RECLINER FOR SPECIAL CARE UNIT)
Supporters were able to donate to the area of their choosing by downloading and printing the form below and selecting which healthcare facility they would like their donation to support, or donors could make a donation directly to the CNEHF by visiting www.cnehf.nl.ca/donate and selecting "Tree of Love".
It was fantastic to get back to doing this event in person again this year and we are so appreciative to all our wonderful donors for their support this Holiday season.
We hope to see you back again next year!