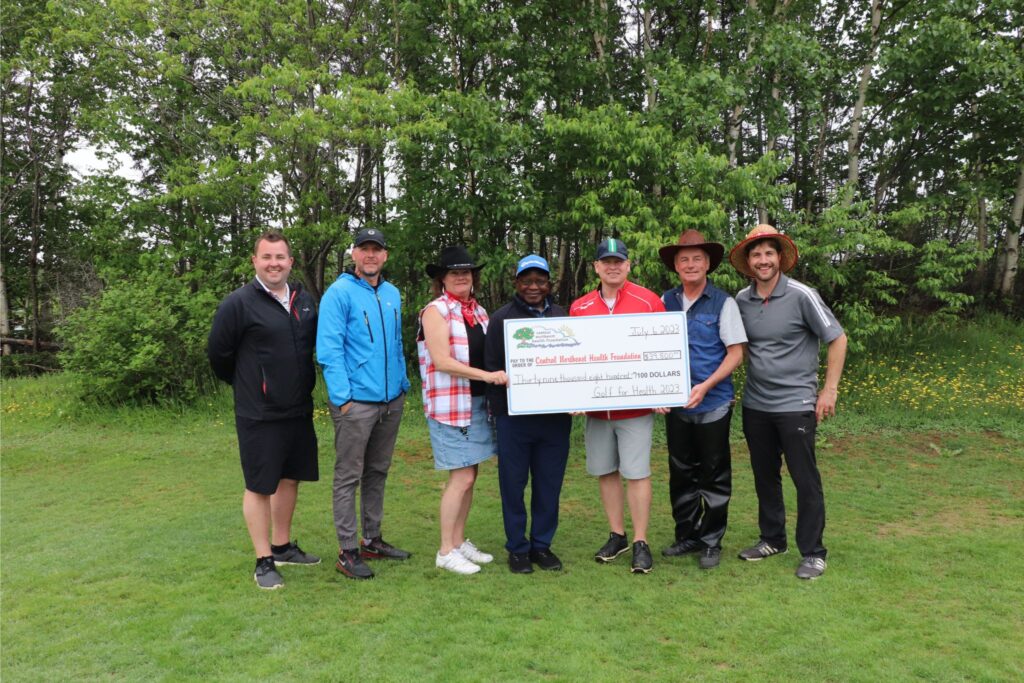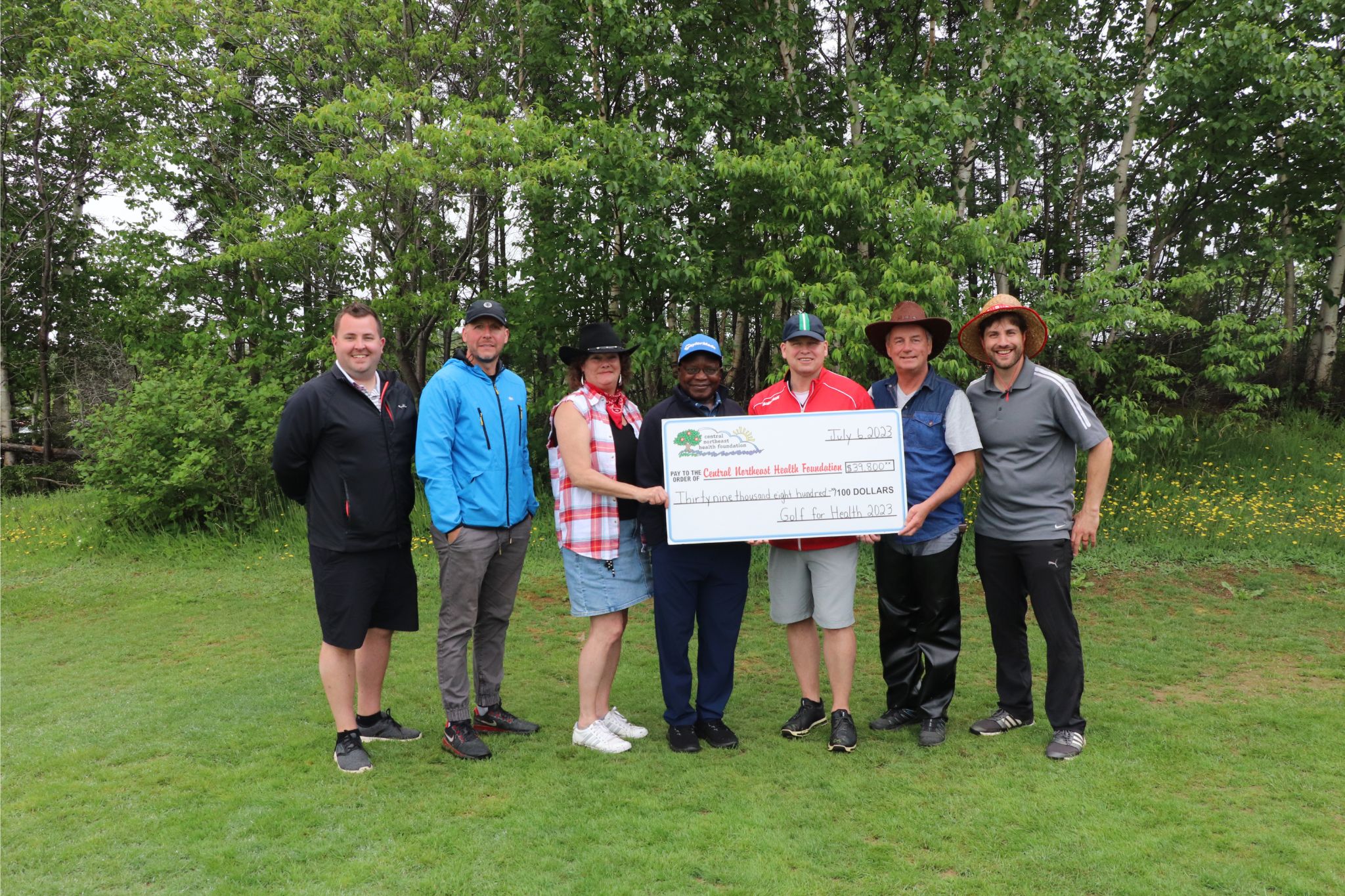 GOLF FOR HEALTH 2023 INFO:
We will be back for our 24th Annual Golf for Health Tournament at the Gander Golf Course on July 4, 2024. Please peruse the files below if you were interested in participating!
I want to send a special thanks to all our outstanding Corporate sponsors for their support of our 23rd Annual Golf for Health tournament: Aramark Healthcare, Canada Life, Core Engineering, Fengate Asset Management, Ophthalmology Gander, and Allnorth.
A big thank you to David Diamond – CEO NL Health Services for stepping up to the mic and saying a few words in support, Steve Greene – Vice President Digital Health and Chief Information Officer NL Health Services, Steve Prisco – Aramark, Vice President Sales & Growth Enablement & Craig Davis – Primary Health Care and Community Services for joining us at the beautiful and scenic Gander Golf Club.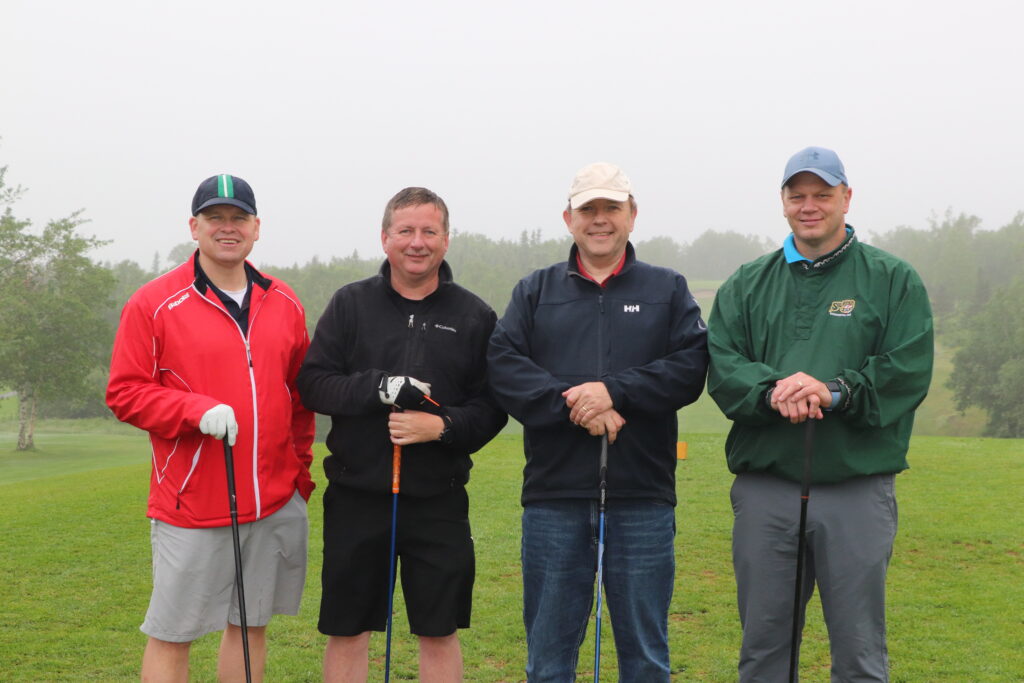 (L-R) Steve Prisco, Steve Greene, David Diamond, Craig Davis

Thank you to our Foundation Board of Directors for your support and participation. Dr. Joe Tumilty – Chairperson and Janice Young, Dr. Tumilty's Team; Frank Simms – Vice-Chairperson, Lifestyle Physiotherapy Team; Mark Mercer of the Scotiabank Team; and the rest of our Board of Directors for all their help; Paula Mitchell for helping with the games, Mac Moss helped with Registration and Claude Elliott provided his golf cart and golfing expertise.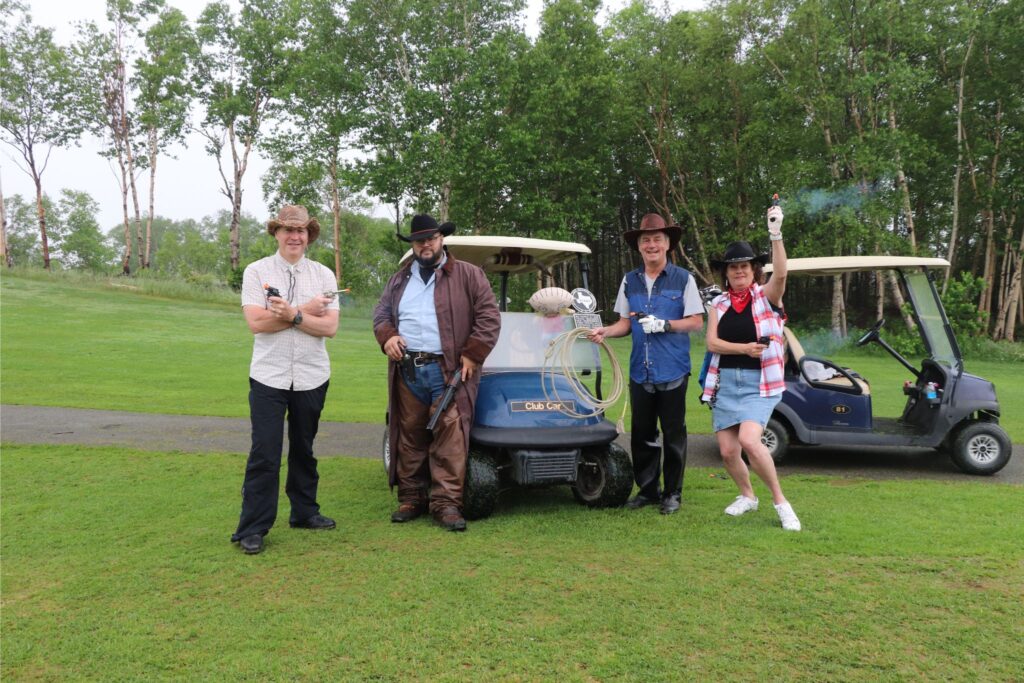 Thanks to Jennie and the staff at Legends Lounge for another great wing night and a big thank you to our generous sponsors Carol Boland, Terry Parsons and Allnorth for providing the wings and beverages. The support you all have shown is amazing! We cannot begin to show our level of appreciation!
We raised: $350 at the door, $215 from the 50/50, and thanks for Trevor Blackler of CORE Engineering, donating the other half of the 50/50 totaling $780 !
Thank you to our Team Sponsors:
Browning Harvey, Business Development Bank of Canada, Crosbie Engineering, CIBC, Canadian Medical, Cabra Consulting Ltd. / Napa GFW, Chem-Aqua, Dr. Joseph Tumilty, Dr. Pieter VanHeerden, Gander International Airport Authority, Lifestyle Physiotherapy, Mr. T's Ultramar, Scotiabank Commercial Banking, RAN Engineering, Moffitts Mobsters, Town Square Family Dental, Crosbie Engineering, Steele Hotels, McInnes Cooper 1 & 2, Town of Gander, Newfoundland Power, Fougere Menchenton, Johnson Controls Inc., R&R HVAC And Controls LTD, The Twillingreats, & Weapons of Grass Destruction
Thank you to our Hole Sponsors:

Cox and Palmer, Browing Harvey, K & D Pratt, Wood Wyant, Johnson Insurance, Central Office Equipment, Fougere Menchenton, Kittiwake Floor Coverings, Tim Horton's, Saltwire Network, Bruce Sutherland Associates Ltd., Johnson Controls, Scotia Wealth Management, Molson, Chem-Aqua, NL Power, Sharaya Eady Real Estate, & Shoppers Drug Mart
Thank you to our prize sponsors for making sure we have awesome prizes to distribute the day of the event:
Cox and Palmer, Clifford Small MP, Collingwood Wine & Spirits, Gander Golf Course, Grand Falls Windsor Golf Club, Grant Thornton, JPM Maintenance, Par 70 by Chef Josh, Molson, Mr. T's Ultramar, NL Power, Pitchers Pond Golf Course, Playground YQX, Steele Hotels, Shopper's Drug Mart, The Rec Room, Tim Horton's
Thank you to any of the other businesses or individuals who helped in any way, shape or form:
Aramark, Gander and Area Chamber of Commerce, Frito Lay, Jungle Jim's, Jumping Bean, Lawtons Drugs Gander, Town Of Gander
Thank you to our volunteers. We couldn't do any of this without your support!
Olivia Organ / Rosalind Richardson – POKER RUN HOLE #10
Krista Pickett / Christine Foote – TICKET STRIPPERS
Holly McDonald – SET UP/GAMES TABLE
Erin McDonald – PUTTING COMPETITION
Andy / Elsie Stoyles – POKER RUN HOLE #13
Suzanne House, Melanie Moss, Des Dillon, Jeanne Dillon, Mac Moss – REGISTRATION/SETUP
Jimmy Stares – 530am CANOPY SET-UPS
Paula Mitchell – GAMES TABLE/SET UP/CLEAN UP
Genesta Holland – PHOTOGRAPHER
Sandra Patey – GAMES TABLE/SET UP/CLEAN UP
Julia Richardson / Abby Harris – POKER RUN HOLE #1
Sophie Evans – FLOATER/COURSE NAVIGATOR

My apologies if I missed anyone – know that your help was soooo very appreciated and made the day run so much smoother. MAKE SURE YOU A HUG A VOLUNTEER TODAY… and every day 🙂
Thanks to our maintenance department at JPM for helping set things up the day before, and taking everything down – you guys are the best. Our staff Danielle Webb, Allison Andrews, Lori Loder, and Kera Leights-Rose for doing so much behind the scenes and ensuring that everything went according to plan. If only we could control the weather!!
And thank you to Callum and all the staff of the Gander Golf Course, and Chef Josh and all the staff at Par 70 restaurant for the great meals and service, going above and beyond to make the day go smoothly.
Here is a list of our prize winners:
Hole #2 Tim Hortons Closet to the Cup …Winner: Todd Groves AKA Strike #1 of Dr. Joe Tumilty's Team. Todd won a $100 Tim Hortons Gift Card compliments of Corey Rice and Tim Hortons Gander.
Hole #4 Closest to the Pin … Winner: Steve Slade of Gander Ophthalmology. Steve won (1) 18 Hole Golf Pass, hat, ball marker and Towel, compliments of the Gander Golf Club, and a $25 Gift Certificate from Par 70 Restaurant compliments of Par 70 with Chef Josh
Hole #10 Closest to the Pin … Winner: Percy Farwell of Town of Gander. Percy won (1) 18 Hole Golf Pass, hat, ball marker and Towel, compliments of the Gander Golf Club and a $25 Gift Certificate from Par 70 Restaurant compliments Par 70 by Chef Josh.
Hole #13 Closest to the Pin … Winner: Darren Slade of Gander Ophthamology. Darren won (1) 18 Hole Golf Pass, hat and Towel compliments of the Gander Golf Club, and a $25 Gift Certificate from Par 70 Restaurant compliments of Par 70 by Chef Josh.
Lasso Challenge … Winner was Sheldon Hancock of Town of Gander with 200 points. Sheldon won a NL Power Coat, NL Power Swag Bag, thermos, and a deck of cards.
Plinko Game … Winner was Team Dr. Joe Tumilty with 2250. They won a team prize of 4 x Rec Room Passes (Donated by Rec Room St. John's) and 4 x Molson Hats, and 4 x Coors Light Soft Coolers (Donated By Molson).
Putting Contest … Thank you again to Lori Loder and Erin McDonald for running our putting contest and raising $525. The Putting Contest was sponsored by NL Power. Prizes were a combined value of over $500.
Winners are as follows:
1st Place: Pro Series Collection Fireworks bundle
Winner: Paul Maloney (Mister T's)
2nd Place: Milwaukee Radio + Tool Charger
Winner: Kerri McIssac (Canada Life)
3rd Place: Accelerator Pro/Chipping Challenge
Winner: Nick Pollard (NL Power)
4th Place: Grant Thornton Prize Package
Winner: Andrew Rowsell (Twillingreats)

Funniest Team Dress … The Twillingreats! Taking down the Two-Time defending champs in Dr. Joe Tumilty's team:
They won a Grant Thornton Prize Package (4 x Yeti Mugs, 4x ProV1 Golf ball packs, 4x Golf Towls, 4x packs of Tees)
Will the TwillinGreats get their competitive streak back again next year I wonder? OR will Dr. T's team take back their bragging rights of the best dressed team?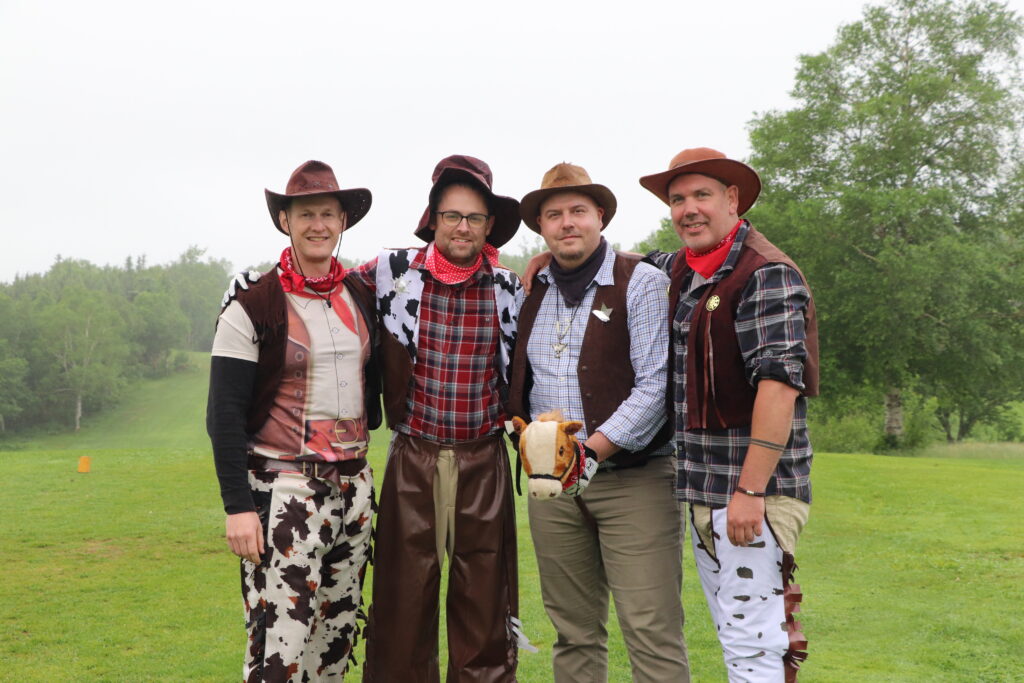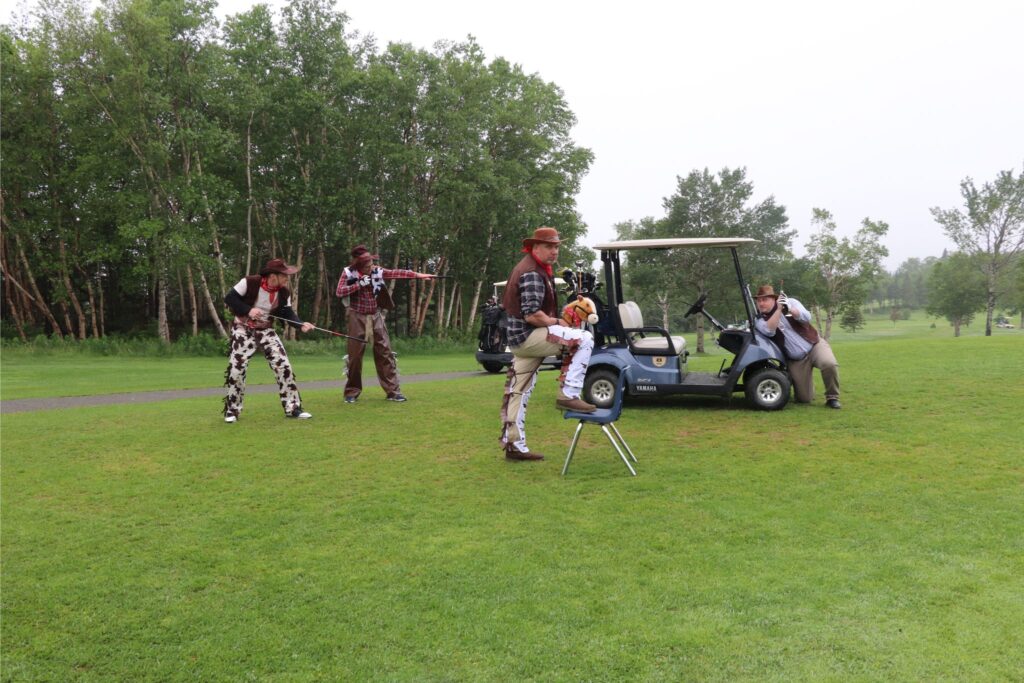 Poker Run: Winner with a Queen-high Straight was Paul Mercer. Paul wins our "Pizza Package", Valued at $250. This package includes a Stovetop Pizza Oven, 12 Coors Light, BBQ Accessory set, & $25 Shoppers Gift Card. Through the Poker Run we raised a total of $1000.
Highest Marked Spade: Winner of the Highest Marked Spade was Shaun Keefe. Shaun wins a "Summer Package" which included a Coors Light Soft Cooler, 12 Coors Light, Coors T-Shirt, & a Canadian Tire Gift Card valued at $150
Highest Scoring Team: Winners (or Losers) was Weapons of Grass Destruction Score of 88. They won a team prize of 4x Aprons, 4x Water bottles, 4x Mugs, & 4x Mister T's gift cards
Lowest Team Score: Winning Team was Cabra Consulting Score of 61. They win a team prize of 4 26 oz. bottles of Iceberg Vodka (Donated by Collingwood Wines and Spirts), 4x $50 Visa Gift Cards (Donated by Shoppers Drug Mart)
Volunteer Draw: Winner was Des Dillon. Des won an NL Power Swag Bag
There were various individual and team prizes given away during the day of thanks to more fantastic prizes from our donors – thanks to all our prize donors for making sure we had some sweet gifts for our participants and volunteers.
NLC WINE CARDS: We had 86 x $15 Gift Cards donated split three ways.

Winners of $430 each are:
1. Dr. Esmael Sebbi – Gander Ophthalmology
2. Kevin Barrett – Mister T's Ultramar
3. Alphonsus Hanlon – Core Engineering

In all we raised $1680 from this fundraiser alone! Thank you, Krista and Christine, for your help – we wouldn't be selling like this if it wasn't for your hustle! Winners were drawn by Christine Foote.
Congratulations to all winners, and thanks for your participation this year!
*TO ANYONE WHO DIDN'T RECEIVE THEIR PARTICIPANT THANK YOU BAG SEND US A MESSAGE – WE HAVE EXTRAS IN THE CNEHF OFFICE!*
NOW: the moment you've all been waiting for… Our total net proceeds through this year's event was: $39,800 !
Our second highest total to date !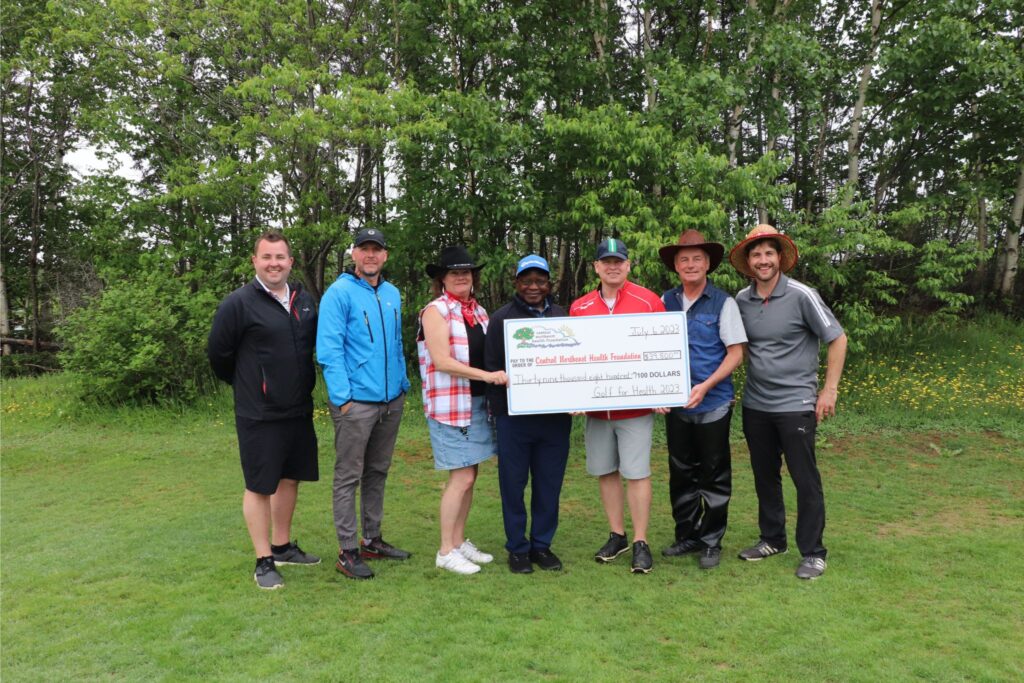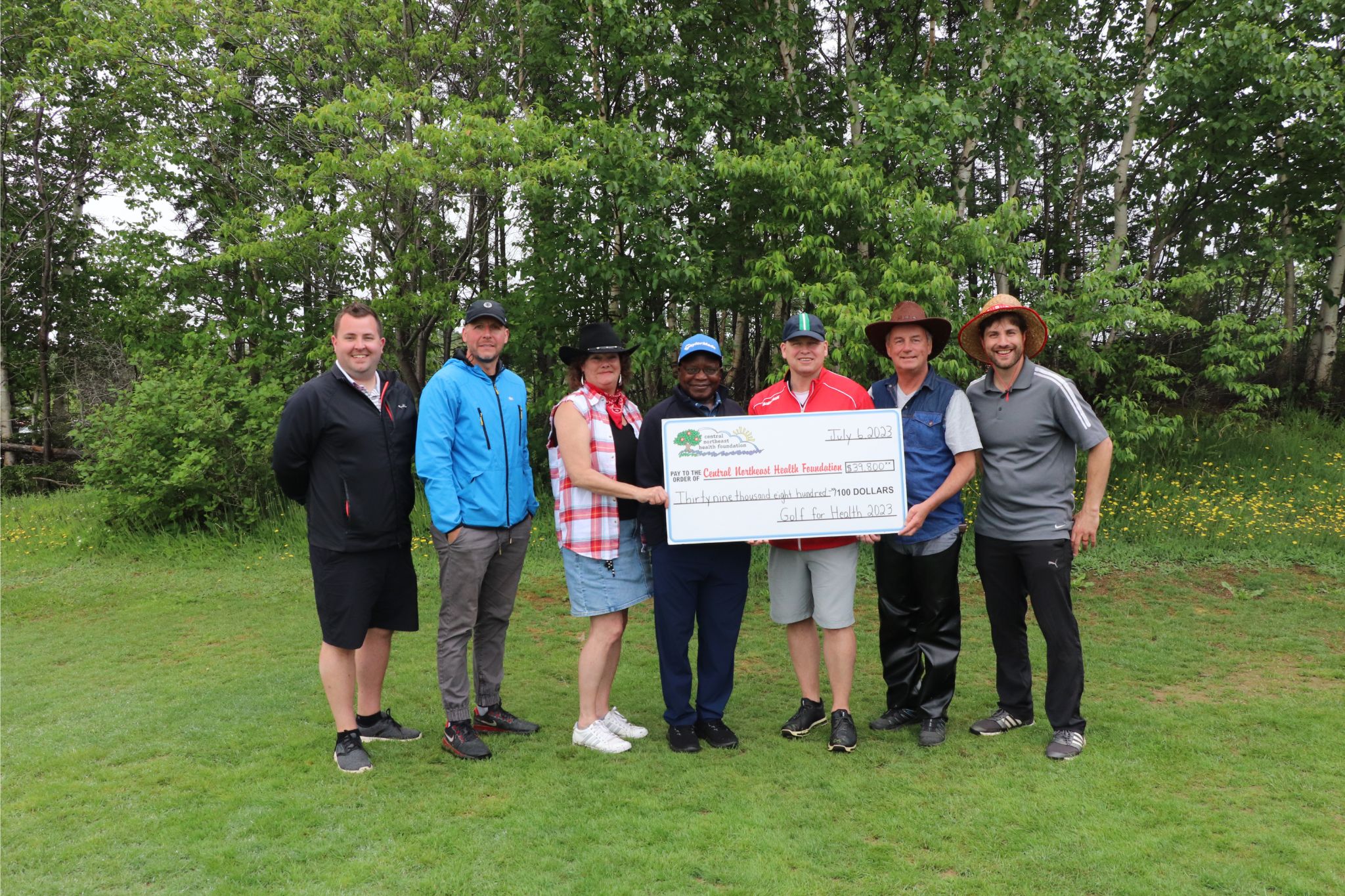 Hope you all enjoyed the day. We would love to hear your feedback on the event !
Thank you so much to each and every one of you who participated and/or sponsored.
We hope to see you all back next year on the 4th of July, 2024!
Thanks for your patience and efforts in helping us raise much needed funds for healthcare programs and services in our region.
There were many pieces of the puzzle, and we couldn't do it with each piece!
Cheers to you all!
Josh Stoyles
CNEHF Interim Executive Director