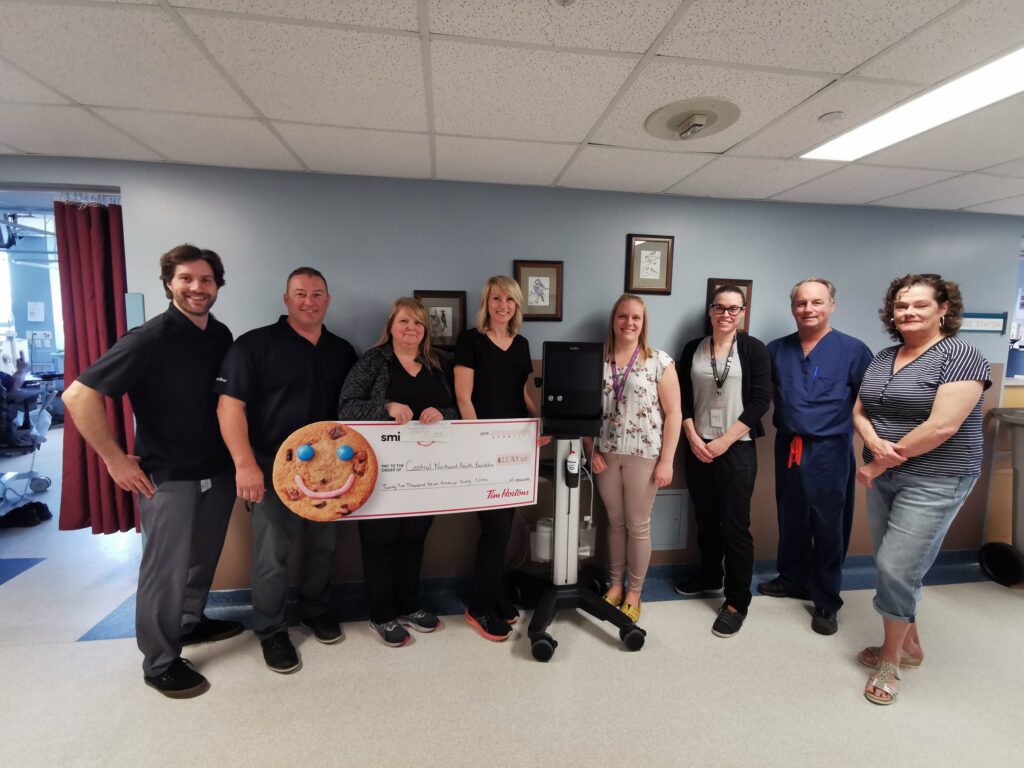 Pictured (L-R): Josh Stoyles (Interim Executive Director CNEHF), Corey Rice (Franchisee Owner Tim Hortons Gander), Cindy Peckford (RN), Idella Butt (Facilitator/Educator), Janine Sheppard (Director of Site Operations – JPMRHC), Janine Cull (RN), Dr. Joseph Tumilty (CNEHF Chairperson), Janice Young (CNEHF board member)
Smile Cookie Week 2023 is May 1st – May 7th and cookies are being sold at all three Tim Horton's Gander locations as well as the Banting Gift & Craft Shop for $1.50 each. 100% of the proceeds will be donated to the Central Northeast Health Foundation and will support the purchase of priority healthcare equipment, projects, or programs at JPMRHC.
Since 2002 this event has raised over $200,000, and this year we rasied $22,769.60 !
Bulk order forms are available below, or you can send along your proof of ordering 12 cookies or more at foundation@centralhealth.nl.ca for your chance to win a pizza party for you and your crew!
PLUS: This year anyone who submits a Smile Cookie Group Shot or Selfie will be entered to win a $25 Tim Hortons Gift Card… All it takes is a SMILE (cookie).
We cannot thank Corey and Sandi Rice, and the staff at Tim Hortons Gander enough for all they have done and continue to do for our Foundation, and for healthcare in our region.