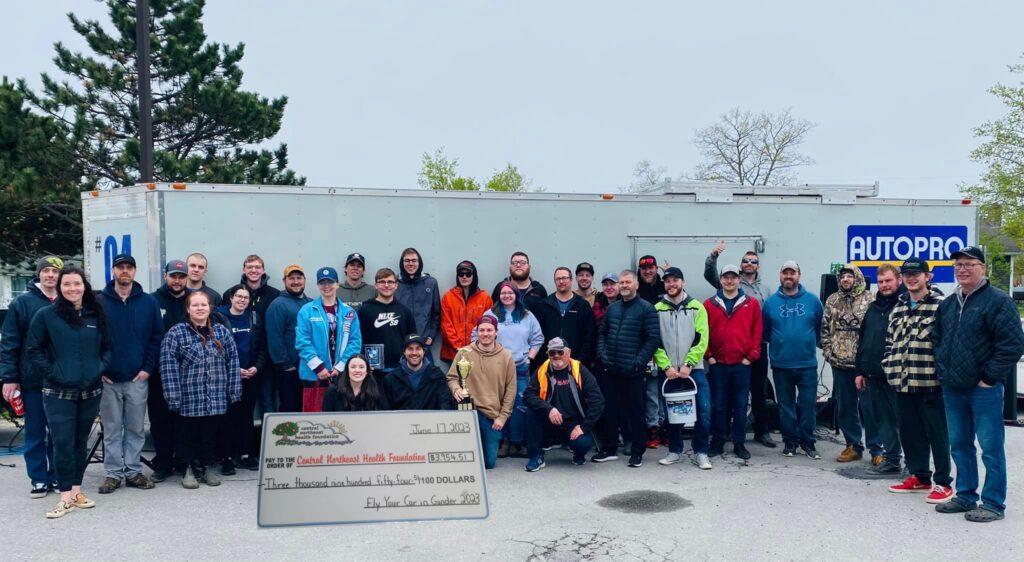 "Fly Your Car in Gander" is an annual charitable racing event that has raised over $34,670 for healthcare programs and services in our region. 
Every year participants have the opportunity to race their street car on a professional Slalom X track in anticipation of being the "Ace" driver and walking away with a 1st, 2nd or 3rd place prize which includes bragging rights. Entrance Fee for this event will be $50 (minimum) and will include a Fly Your Car in Gander participant T-shirt. Pledge sheets are also available to assist participants in obtaining pledges. All proceeds from this event will support healthcare projects of the Central Northeast Health Foundation for patients living in this region.
We were back on course at the Steele Community Centre this year. The event took place on the 17th of June, with a car show/meet and greet on June 16th to start it all off.
Since 2011 this event has raised over $34,000 + $12,500 from SnoDrag. in 2020 Sideways Motorsports purchased a new Blanket Warmer for our OBS Department at a cost of $12,000 from the funds raised, as well as 4 new Breast Pumps and Stands for use at JPMRHC. Any new funds raised will be kept in their account for future projects.
THANK YOU TO SIDEWAYS MOTORSPORTS, ALL OF OUR SPONSORS, AND ALL OUR PARTICIPANTS FOR YOUR CONTINUED SUPPORT!