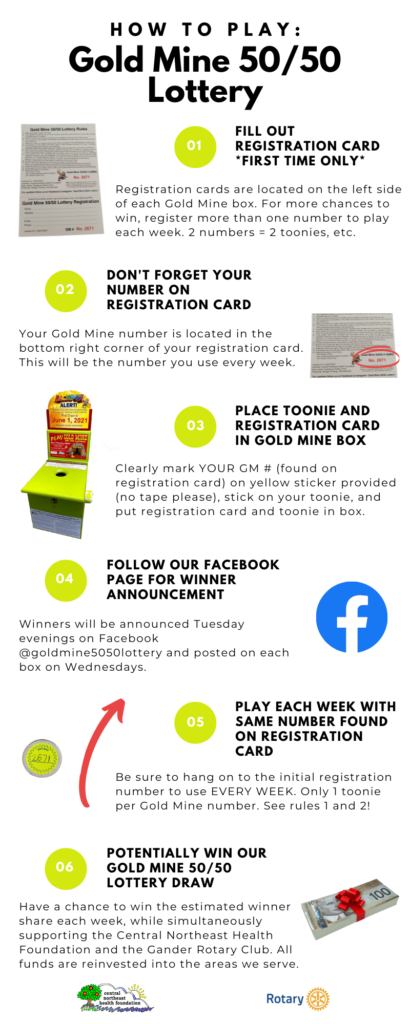 Held in conjunction with the Central Northeast Health Foundation and the Rotary Club of Gander.
Lottery Kickoff: June 1, 2021
Draw Date:
First Draw Tuesday June 1/ 2021 and every Tuesday thereafter.
NL Lottery License #: 22-10121300LT
Weekly Jackpot Prize payout is as follows:
-50 % Winners Prize (if no winner prize is rolled over into following week's jackpot)
-25 % Rotary Club of Gander
-25 % Central Northeast Health Foundation
Note:
– Every year a drum clean out will take place for individuals who have not played in the past 12 months.
-The final draw of the lottery license period will not have a carry-over, we will instead draw until we have a winner so that we can start the new lottery license period on the following week.
Gold Mine 50/50 Lottery can be played at the following locations:
– JPMRHC at the Banting Gift & Craft Shop
– Dominion
– Gander Walmart
– Lakeside Homes
– Johnny's Convenience -Glenwood
– Jumping Bean
– Kelly's Corner
– Lawtons
– Mister T's Ultramar
– Need's Northeast Convenience
– Need's Town Square
– Rosie's Restaurant
– Orange Store
– Gander Foodland
– Canadian Tire (Gander Mall)
– Subway (TCH)
PLUS AROUND THE LOOP LOCATIONS:
– Saunder's General Store GANDER BAY
– D&M Services Limited MUSGRAVE HARBOUR
– Rich's Convenience LUMSDEN
– Western Petroleum BADGER'S QUAY
– Parson's Ultramar HARE BAY
– South End Gas & Convenience GAMBO
– North Atlantic Orange Store GLOVERTOWN
Contact Information

Email: 5050GoldMine@gmail.com
Phone: 709-256-5982 or 709-256-5742
Facebook: www.facebook.com/goldmine5050lottery
Instagram: www.instagram.com/goldmine5050